How I almost got scammed out of $10,000
A fake job offer gone wrong
TL;DR I got "hired" as a Remote Software Engineer by someone posing as AutoNation and was supposed to be shipped office supplies but "issues" cropped up leading me to cash a fake check and almost wire transfer ~$9k to buy office supplies from their "vendor", but I snapped out of it at the last minute! They sent fake check via UPS(1 day ship plan) that would not clear in 7 days and time pressure you to cash it in and then wire them.
My state of mind at the time:
Here are a bunch of reasons why I, someone who ignores various phishing emails from USPS and various others over the past several years, almost managed to fall to a job scam.
I'm not too well accustomed with the job hiring process. I only had 1 other job before this which was not a big software engineering gig.
Got the flu the week I was hired
Brand new WORK ONLY EMAIL, I only ever used on indeed. No one knows this email exists, which made me think low chance of scam.
I trusted indeed in that they actually audit employers before they let them post. I'd expect craigslist not to but indeed/linkedin? NOPE THEY DO NOT AUDIT/VERIFY EMPLOYERS? EDIT: I looked back at my job application history and it turns out I never applied here in the first place. Ohh the pitfalls of spamming resumes. Whoever got a hold of this email I can only assume came from indeed? Or something else I'm not aware of...
Less than 5 hours of sleep per day for past the week I was hired because of the flu and waking up at 6AM PST to match their 9AM EST. Once I wake up, I often can't fall back asleep.
I mass sent out applications on indeed that I sorta lost track of them! So used to getting ghosted, not to mention I was very busy.
STUPID busy in the middle of writing a big patch for my game, in the programming-zone, I wanted to get it done before I leave for work in case work was too heavy, which lead to a lot of quick skimming.
My attitude was that of renewing my drivers license at the DMV. Ugh, just get this all done already, I'll adapt to whatever situation arises but atm I'm on a bit of roll right now finally getting some headway on my game project. I'll just try n dedicate at least an hour to brush up on some of their listed topics.
Looking forward to the job since I've never worked in software as a team, so I skipped half the interview questions relating to team dev(red flag I know but I thought it wasn't a big deal, learn it on the job! Their company software dev reviews seem so nice)
Company Software Dev reviews were pretty nice and welcoming. Kinda weird they aren't testing me at least a little on C# or w.e the job is requiring but I guess maybe this is why they have high reviews? Onboarding is easy and they treat software devs not as leetcode monkeys but as actual adaptable humans. Still very weird though....
I saw a ton of red flags in regards to grammar and spelling but brushed it off, maybe it was just some foreign recruiter, whatever, I make typos all the time. I mindlessly skimmed and autocorrect as I read.
Can you even fake a check these days? Like no sane person would ever want to fake a $100 bill, all the green ink, cotton paper, watermarks, and being on the run is WAY too much. Surely we have as much advanced check counterfiet detection tech as we do the dollar check! Who would even risk it?! (We do but their fake check clears in 7 days and they try to time pressure you).
I'm gaining money and benefits from the job, I'm gaining money from this check, the thought of loss did not enter my mind until I had to wire back.
Why did @gmail email not throw you off? I had just watched a bunch of youtube interview vids where some advice given was to cut the middleman, go find the recruiters email directly! So I thought I got lucky that this recruiter is giving me their personal email. This guy was actually the VP
Why did the poser Marc Cannon, the executive vice president, interviewing you not raise flags? I did look him up and found it a bit odd but my previous job was a small company of 50-200 had the CEO interviewing me so it wasn't too weird. I thought huh, maybe they're short staffed atm.
I didn't even know job scams existed till now! Let alone ever use the two words in a sentence before.
THEY COULD NOT HAVE PICKED A BETTER OPPERTUNITY TO SCAM SOMEONE GIVEN ALL THE REASONS ABOVE! Well, if I had kids that'd raise the probability higher...
The details:
Here is all the email exchange, google chat logs, receipts, and timestamps.
The email exchange:
Download the interview questions pdf. I skipped half the questions relating to team software dev and communicating in a team
| | |
| --- | --- |
| | JEST <myemail@gmail.com> |
---
AutoNation Remote software engineer
12 messages
---
---
---
---
---
---
---
---
---
---
---
---
Google chats chatlog

PDF signing that I did: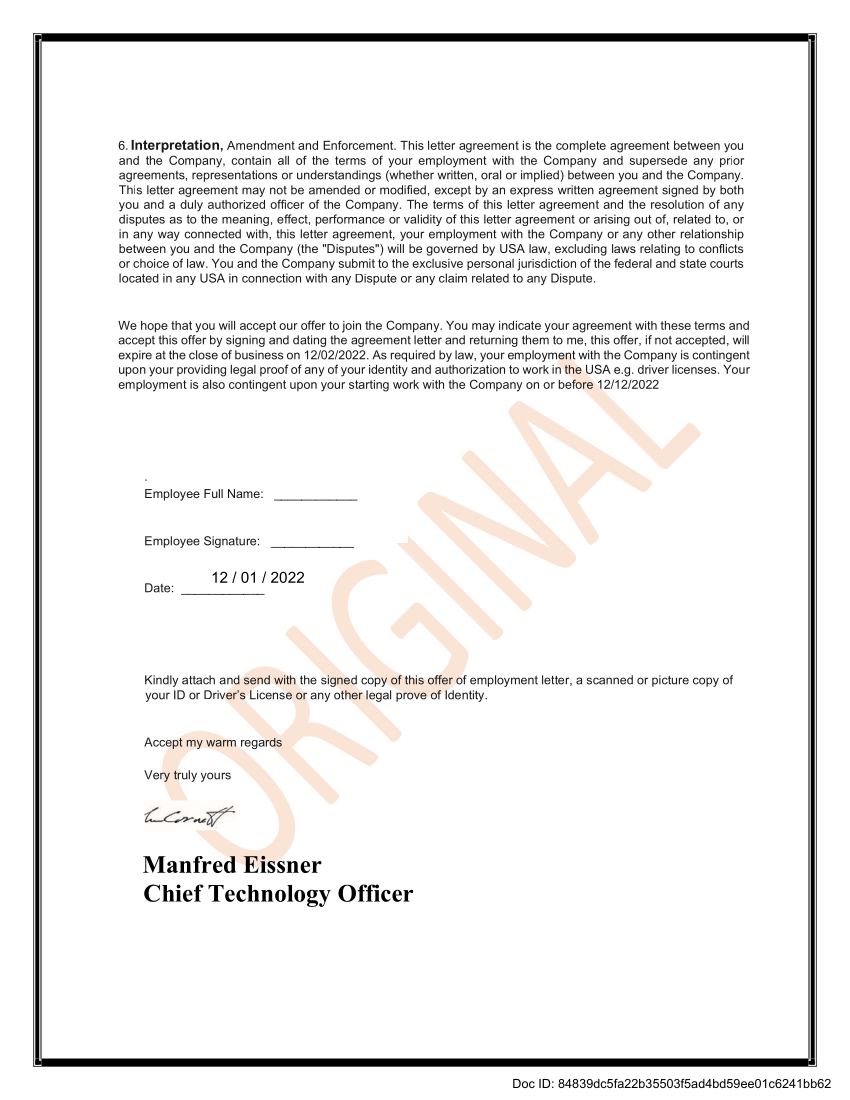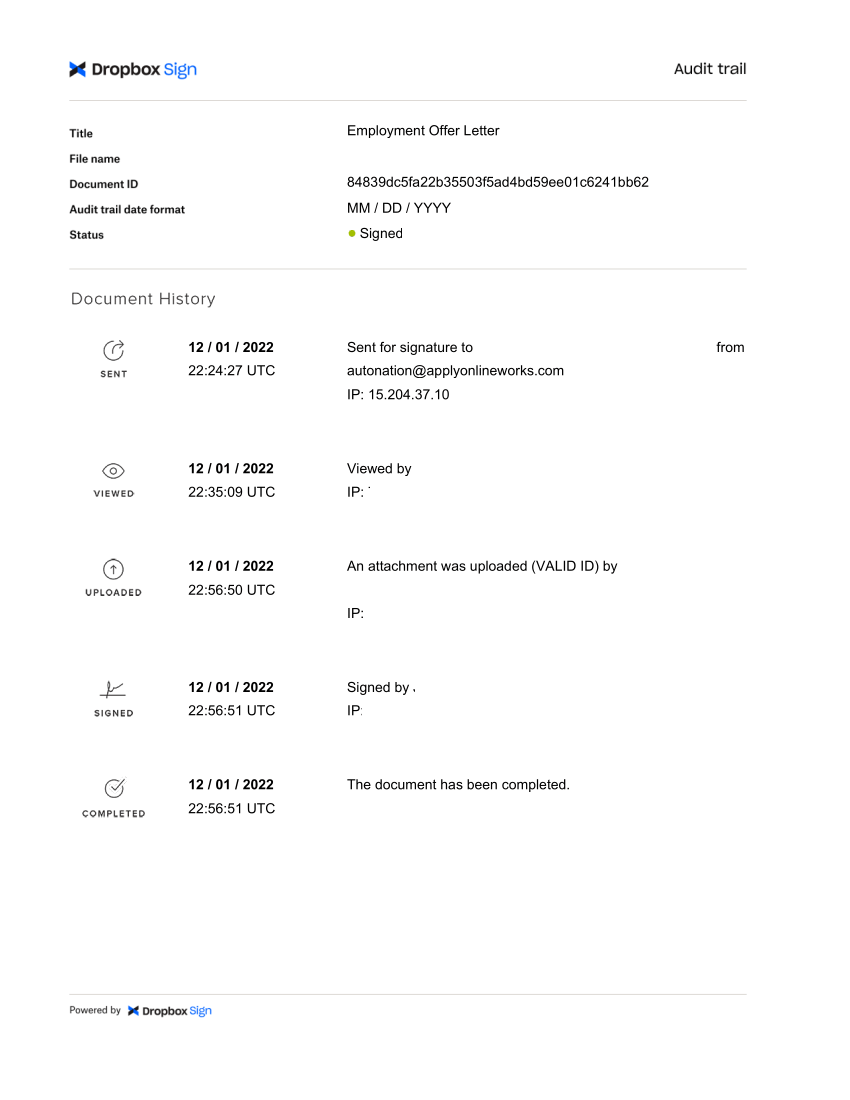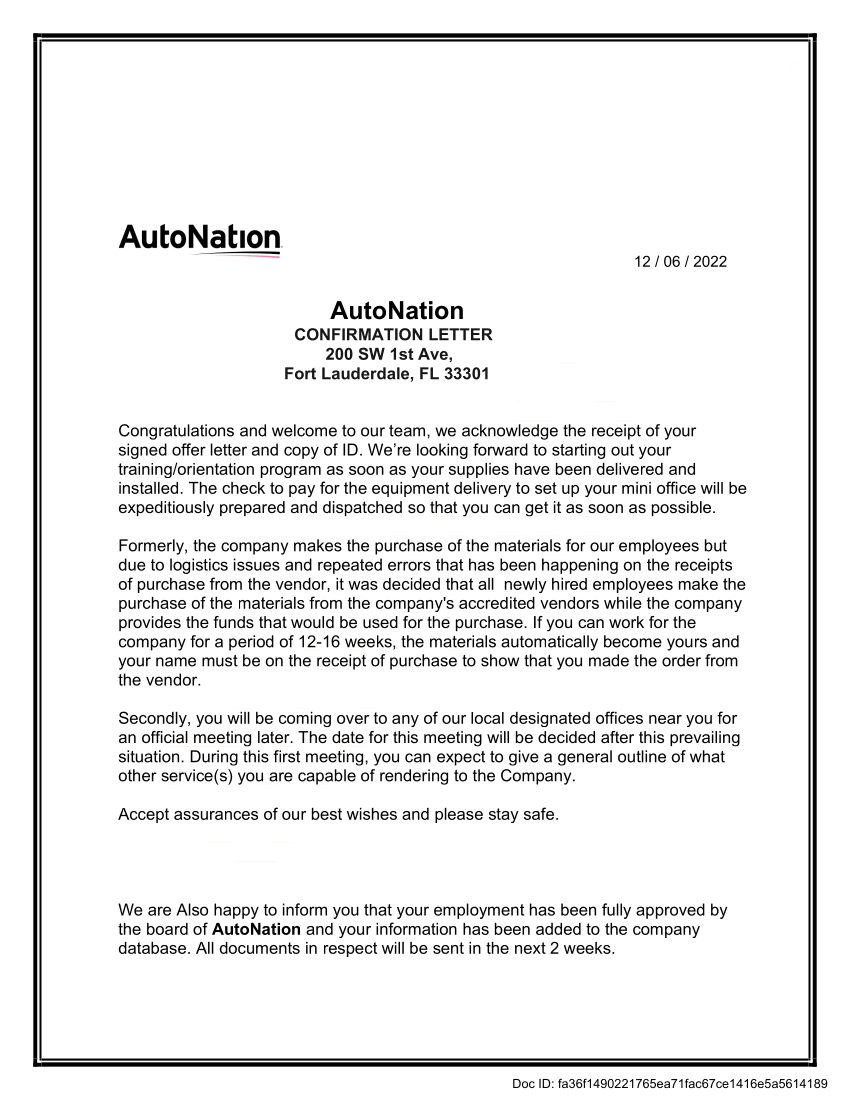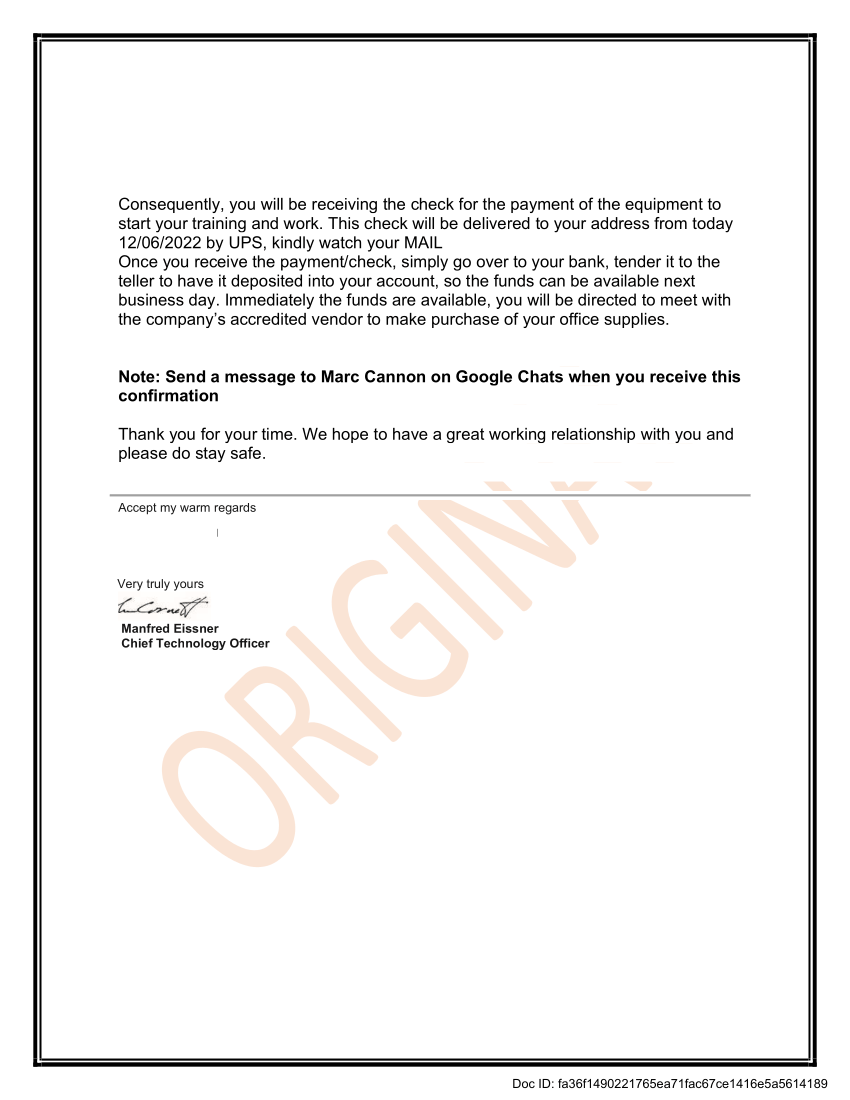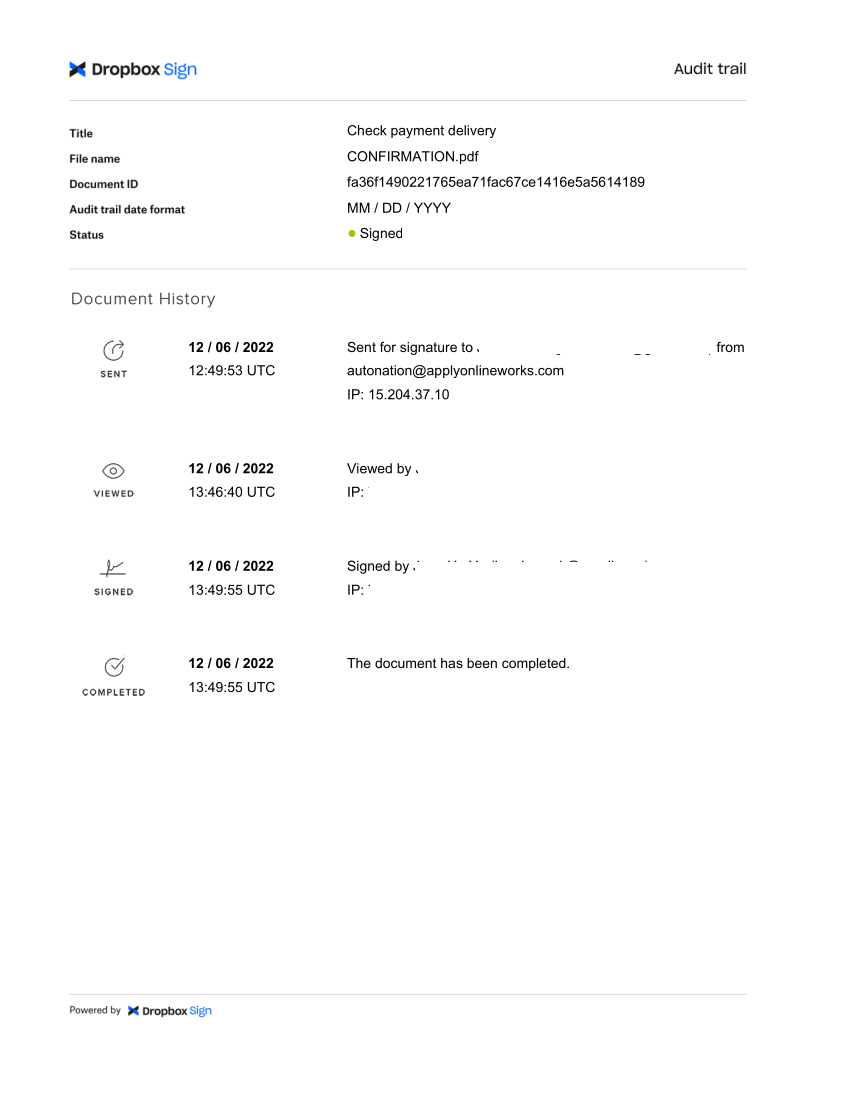 They sent me a check via UPS urgent shipping, I cashed in the check.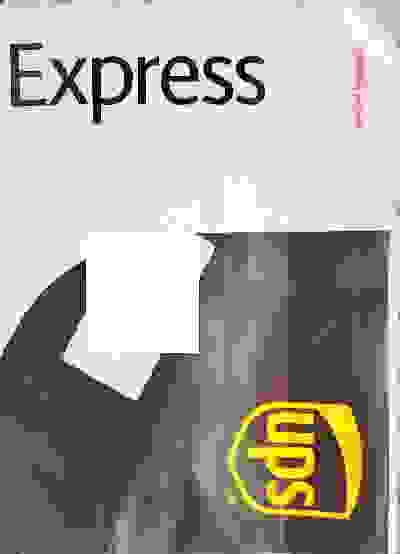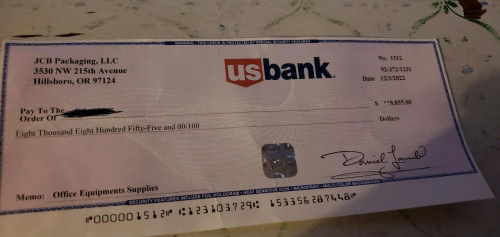 With the help of friends and remembering wirefrauds were dangerous from crime shows, I held out and realized what was going on, wuv yall
The following emails and domains need to be taken down:
These are up as of: Dec 9, 2022
allhrr@gmail.com
callhrr@gmail.com
https://applyonlineworks.com the email they sent the initial job offer from.
Retracing my steps, other than indeed my work email leak might have came from here? More investigation is needed:
This has happened before to others:
KPRC 2 Investigates: Fake employer on Indeed steals thousands from job applicant
New mom looking for remote work scammed on Indeed
Story Time: scammed on Indeed, An employer on Indeed Scammed Me
Scammers using LinkedIn, Indeed to prey on people searching for employment
They have my drivers license which contains a lot personal information but eh... probably somewhere based in india or something, I dunno. I will be moving soon. If you have any advice please send it to me. Also on the offchance that someone is looking to hire or want to add more to this page, please email me:

my contact email:

jestarray@gmail
I have already filed a report to the FTC, FBI's internet crime division, etc. Thanks for reading, I rushed to type this out cause I don't want anyone falling prey to this so there may be typos. Please share this to spread the word, thank you.
Discussion:
Discuss on hackernews